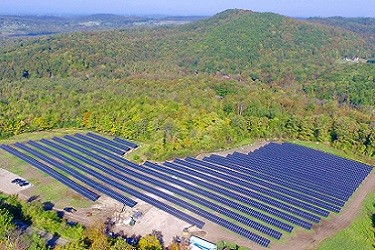 There are a variety of ways that members are participating in the generation of distributed energy. You can contact us if you have any questions about any of these options. Please also read VEC's Interconnection Guidelines if you are considering interconnecting energy sources to VEC.

VEC Co-op Community Solar

VEC has three community solar projects up and running, one each in Alburgh, Grand Isle, and Hinesburg. Members are welcome to sponsor panels and obtain benefit from cost-effective local renewable energy. Learn more.


Net Metering
Net metering is a program instituted by Vermont law that allows members to connect small-scale renewable energy systems to the grid and receive credit on their electric bills. Click here for an overview of VEC's interconnection procedures.


Sustainably Priced Energy Enterprises (SPEED) Standard Offer
SPEED is typically applied to large-scale renewable energy systems. The SPEED resources are essentially generation sites where Vermont utilities are required to buy their retail sale load share. This type of system requires dedicated metering and communications. The Standard Offer sets retail rates for qualifying renewable energy systems. Learn more.



Grid Constraints

VEC has developed a map to assist in the location of generation. (Click on link or map to access interactive map).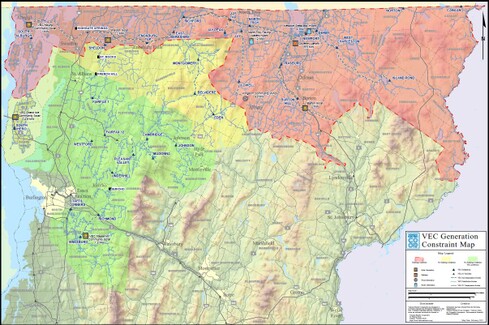 The map includes any known constraints on VEC's transmission, substation, and distribution assets. The map should be used as a guide and VEC recommends that any prospective developers contact VEC's Engineering Department for more detailed information.


SHEI (Sheffield Highgate Export Interface)
The SHEI (Sheffield Highgate Export Interface) is an ISONE defined transmission region in northern Vermont. A VELCO-owned 115kV transmission line from Sheffield to Highgate to St. Albans and a GMP owned 34.5kV sub-transmission line from VELCO East Fairfax to Lowell make up the region. Around 21,500 VEC members are fed off of these transmission lines and the area has significantly less load than generation. Since the load in the region is often low (spring and fall), when generation from Wind and Hydro tend to be high, there is excess generation that needs to flow out on the transmission system. The capacity of this transmission (originally designed to meet the load) limits its ability to export the power to the rest of Vermont and New England and as a result projects are curtailed (shut down or limited generation). VEC is recommends that any new generation be located outside of the SHEI. Click here for a map of the SHEI.