Adaptation, Innovation Noted at VEC's Annual Meeting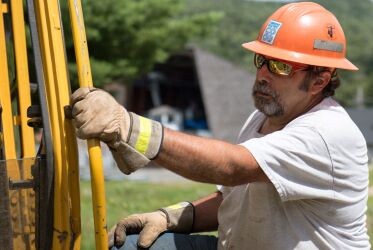 A broadly successful year which included timely adaptation to the COVID-19 pandemic, was among the themes highlighted VEC's 82nd Annual Meeting of the Membership, held via video conference and telephone today.
"Here we are, meeting remotely in midst of COVID-19 – and life is not the same as it was just a few short months ago," Rich Goggin, President of the VEC Board of Directors, told members who attended virtually. "But we as individuals have adapted, and I'd like to commend the senior leadership team for creating a comprehensive plan during this situation and VEC employees for being willing to change the way they do things to assure that people are safe and we keep the lights on."
By weathering this storm and continuing to innovate, VEC will be even stronger in the future, he said.
VEC Chief Executive Officer Rebecca Towne noted that in 2019 VEC had relatively few outages, and, when there were outages, they were relatively short compared to past years. She noted that fewer weather events were a factor but that investments in the reliability of the system were also important.
Towne said that VEC was able to work in partnership with four large commercial members who had been using fossil fuel power sources for processes to switch to cleaner and more stably priced electricity. She also reminded members that a new utility-scale battery went live in Hinesburg in 2019. VEC has been using the battery to shave peak demand, saving the co-op approximately $100,000 annually. She also noted that VEC's Energy Transformation incentives continued with 450 members taking advantage of the program in 2019. These incentives are available for technologies that help members reduce fossil fuel usage, including heat pumps, heat pump water heaters, electric vehicles, pellet stoves, and, as of 2019, electric lawnmowers.
"In 2020 we are continuing to focus on delivering safe, reliable, affordable energy," she said. "Now more than ever each of those pieces is critical to our members."
Also at the meeting Towne announced the board members elected by the membership this year. Incumbents retained their seats.
Rich Goggin of South Hero, running unopposed, was re-elected to his seat in District 7 with 518 votes.
George Lague of Derby received 1,054 votes to retain his East Zone seat; challenger Normand Raymond of Newport received 426 votes.
Ken Hoeppner of Jeffersonville kept his West Zone seat with 846 votes; Jeff Forward of Richmond received 757 votes; and Bill Karstens of Alburgh received 372 votes.
Voting took place by mail and online between May 1 and May 20.
"I want to thank all of the candidates and members who voted for participating in this election. This level of engagement in public service is very encouraging," Goggin said.
Members also approved a bylaw change to allow board members to vote and be paid for attending regular board meetings remotely. Previous language barred board members voting or being paid unless they attended meetings in person.