Six Candidates Seeking Three Seats on VEC's Board of Directors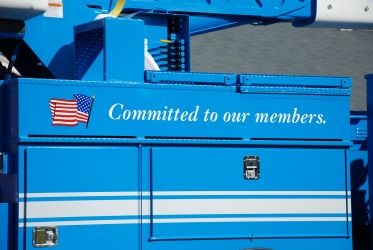 Johnson, VT- Six candidates are vying for three seats up for election this year on the board of directors of Vermont Electric Cooperative (VEC).
This year members will choose one representative in three VEC board districts. In District 7 a current board member is running unopposed, in West Zone there is a three-person contest, and in East Zone there's a two-way race.
VEC members can vote for candidates online and by mail starting May 1 through May 20. Because VEC is holding a modified, "remote" Annual Meeting this year, there will be no in-person voting.
Here are the election details, by district:
District 7: Rich Goggin of South Hero is running unopposed. (District 7 towns are Alburgh, Grand Isle, Isle LaMotte, North Hero, South Hero.)
West Zone: Jeff Forward of Richmond, Ken Hoeppner of Jeffersonville, and Bill Karstens of Alburgh are all seeking the seat in a three-way race. (West Zone towns are Alburgh, Bakersfield, Belvidere, Berkshire, Bolton, Cambridge, Eden, Enosburg, Essex, Fairfax, Fairfield, Fletcher, Franklin, Georgia, Grand Isle, Highgate, Hinesburg, Huntington, Hyde Park, Isle LaMotte, Jericho, Johnson, Milton, Montgomery, Morristown, North Hero, Richford, Richmond, Sheldon, Shelburne, South Hero, Starksboro, Stowe, St. Albans Town, St. George, Swanton, Underhill, Waterville, Westford, Williston.)
East Zone: George Lague of Derby and Norman Raymond of Newport are competing for the seat. (East Zone towns are Albany, Averill, Averys Gore, Barton, Bloomfield, Brighton, Brownington, Brunswick, Canaan, Charleston, Coventry, Craftsbury, Derby, Ferdinand, Glover, Greensboro, Guildhall, Holland, Irasburg, Jay, Lemington, Lewis, Lowell, Lyndon, Maidstone, Morgan, Newark, Newport City, Newport Town, Norton, Sheffield, Sutton, Troy, Warners Grant, Warren Gore, Westfield, Westmore, Wheelock.)
"Democratic member control is a key co-op principle," noted VEC Chief Executive Officer Rebecca Towne. "And VEC's annual director election is an important opportunity for members to have a say in the co-op's direction," she said.
Because VEC is a cooperative, VEC members elect local representatives — other VEC members — to serve on the twelve-member board. Directors participate in setting policy and are expected to represent the interests of the VEC membership.
VEC members will receive in the mail a packet with instructions for voting by mail or on-line.
Statements from the candidates and more information about the modified 2020 Annual Meeting is available here: https://www.vermontelectric.coop/about-us/annual-meeting