VEC Launches "ChargeItUp" Incentive for Electric Yard Equipment, More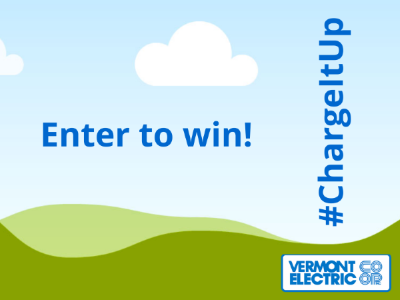 Vermont Electric Cooperative (VEC) today announced the launch of a new electronic device incentive program in which VEC members who purchase certain types of equipment can be entered into a monthly drawing to win a $100 bill credit.
VEC's "ChargeItUp" program is a way for VEC members who buy electricity-powered tools such as yard care equipment and other devices that have been traditionally powered by fossil fuels, to have a chance to win the bill credit and share their experience with the equipment.
"Battery-powered equipment – whether it's a weed whacker, a hedge trimmer or a chainsaw – and even other equipment, is cleaner, more climate-friendly, cheaper to run, and more convenient, than similar fossil-fuel counterparts," said Jake Brown, energy services planner for VEC.
Brown also noted that battery technology is improving, so on-the-ground performance of these and other devices is improving, too.
The ChargeItUp program is loosely related to VEC's Energy Transformation Program in that it offers an incentive for the purchase of electricity-powered devices that displace fossil fuels like gasoline or diesel fuel. Under the Energy Transformation Program, VEC offers one-time guaranteed bill credits to members who purchase larger-ticket items such as electric vehicles (EVS), cold climate heat pumps, heat pump water heaters, pellet stoves, and more.
ChargeItUp Program Specifics
VEC members who buy, or already own, an electric/battery powered device for which there is a similar fossil-fuel powered device on the market, may submit entries into the ChargeItUp program. Submissions must include the member's name and service address, a photo of the product and a brief written review of the member's experience with it.
In submitting their entries, members agree to allow VEC to use the submitted materials for promotional purposes on social media, email newsletters, bill insert promotions, in hard-copy newsletters, and other channels.
Eligible Products, Winning
Eligible products are electric/battery powered devices for which a fossil-fuel powered alternative is commonly available in the marketplace. Eligible devices shall generally represent new/emerging battery/electric technology. Equipment could include but is not limited to:
yard care equipment including leaf blowers, chainsaws, hedge trimmers, weed whackers;
recreational equipment including e-bikes, golf carts, utility vehicles, motorcycles, snowmobiles, outboard motors, go karts;
other items that may include outdoor cooking grills, induction cooktops etc.
Products for which VEC already offers an Energy Transformation Program incentive, such as electric vehicles, cold climate heat pumps, heat pump water heaters, and pellet stoves are not eligible.
Winners for each ChargeItUp monthly drawing will be selected at random every month, and bill credits for each winner will be awarded in the month after the drawing.
Entries may be submitted via an on-line form on this page or via email to Jbrown@vermontelectric.coop