Reliability, Affordability and an Equitable Clean Energy Transition Themes at VEC Annual Meeting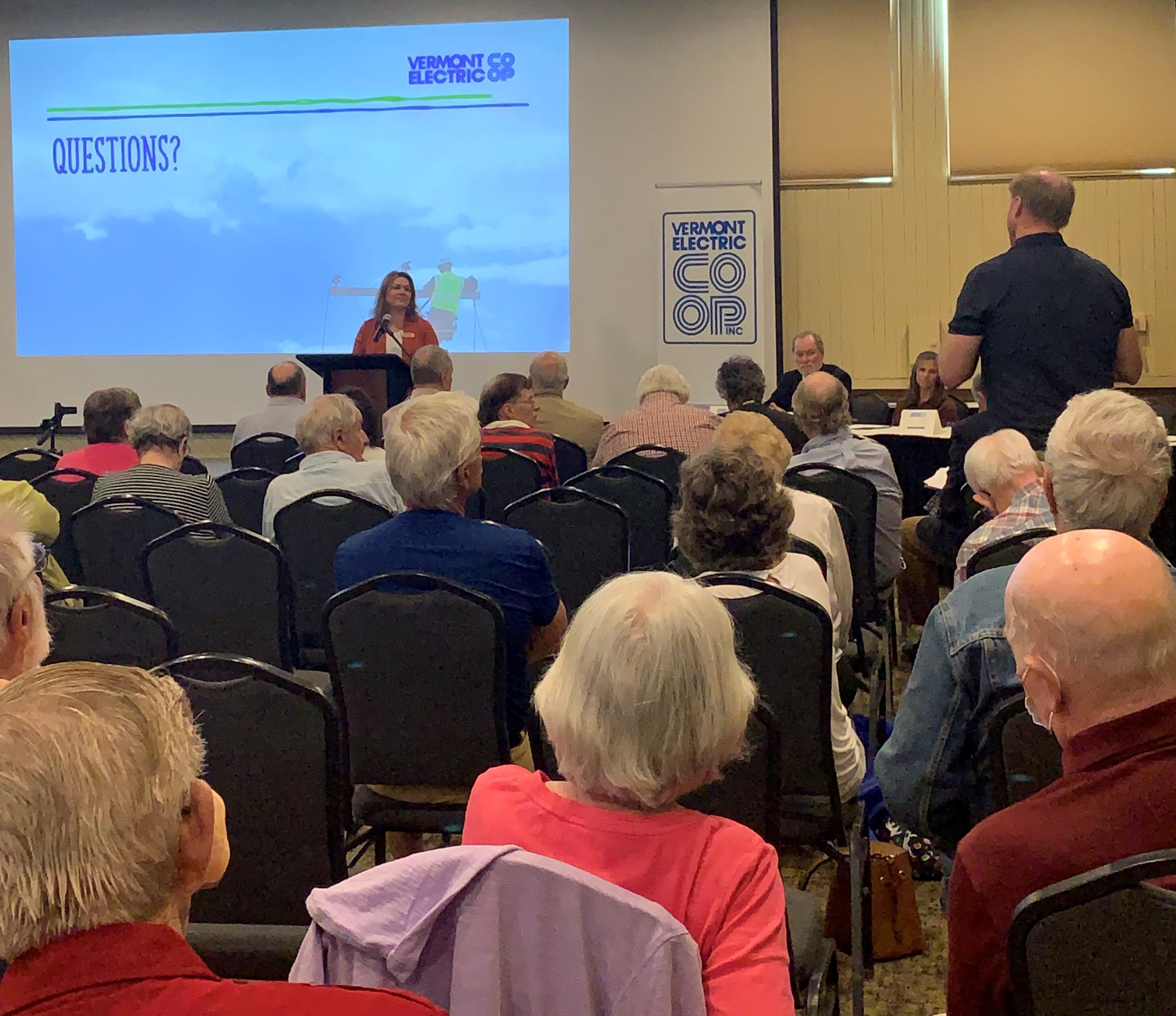 Johnson, Vt – Vigorously pursuing Vermont Electric Co-op's core mission of delivering reliable, affordable power – with a sharp eye toward assuring an equitable transition to cleaner energy – was the focus of remarks by VEC's Chief Executive Officer Rebecca Towne during the organization's recent Annual Meeting.
The meeting, held May 14, was the first in-person VEC Annual Meeting since 2019. It was presided over by VEC Board Chair Rich Goggin of South Hero.
In her presentation to approximately 155 attendees, Towne offered thoughts on three topics she gets asked about frequently: reliability, affordability, and the ability of the grid to handle future energy needs.
On the reliability front, Towne noted that VEC lineworkers recently earned special qualifications that allows them to do repairs while critical, high voltage power lines are electrified, reducing the need to cut power to members during maintenance. VEC is the only utility in the state whose lineworkers have this training, Towne said.
VEC is working on affordability, too, she said. Towne noted that VEC works hard to find grants and alternative sources of funding from government agencies, including the Federal Emergency Management Agency and the Department of Energy, to invest in infrastructure and reliability. She also noted that VEC recently helped members get access to about $1million in state assistance to help them pay past due bills during the pandemic.
Regarding the energy future, Towne stressed that VEC wants to be sure the coming energy transformation – and specific VEC clean energy goals of 100 percent carbon free power by 2023 and 100 percent renewable power by 2030 – is equitable, so that all Vermonters can take advantage of a more modern energy system.
Strong Financial Position
VEC Board member and treasurer John Ward, in the Treasurer's Report, noted that VEC continues to have strong financial results. He noted that VEC's finances are currently rated A-Plus with a stable outlook by Standard and Poor's. "I'm pleased to say that VEC has had another very good year and your board of directors, management and staff will do everything possible to have another great year in 2022," Ward said.
During the meeting VEC also announced the winners of this year's Board of Directors elections. In an election where there were four candidates running for three seats up for election, incumbents Carol Maroni, Mark Woodward and Charles "Charlie" Van Winkle were re-elected. You can find details about the results including vote tallies here: (https://vermontelectric.coop/past-board-election-results)
The meeting concluded with a raffle and the following prizes were given away: an electric string trimmer/leaf blower from Johnson Farm and Garden; an electric lawn mower from Jerihill Ace Hardware in Jericho; merchandise from Jolley convenience stores; gift cards and certificates to local and national retailers courtesy of Lucas Tree Experts, Power Sales Group, Charles Curtis LLC, Paul Frank + Collins, and Wilschek Iarrapino Law Office PLLC.