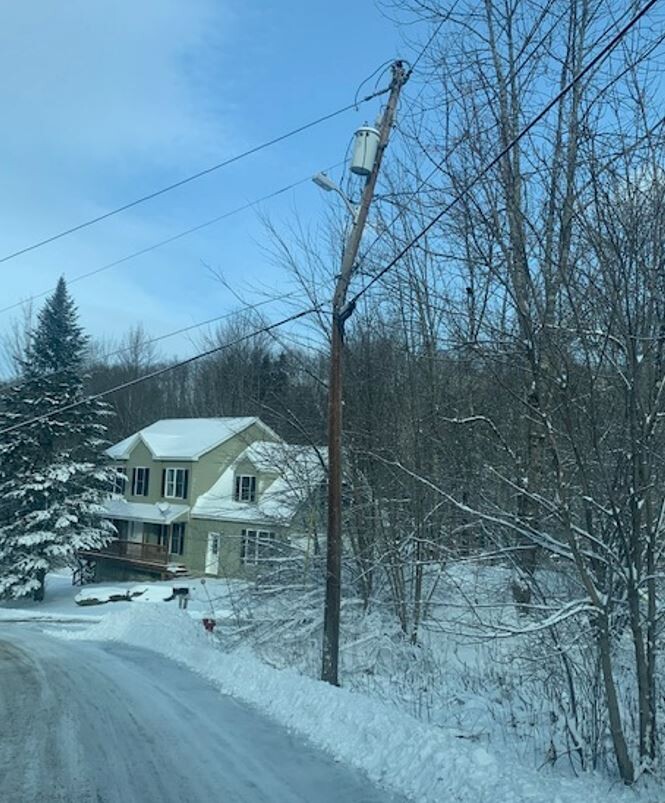 Wednesday 12/28/22
From Rebecca Towne, VEC CEO:
Winter Storm Elliott has left its mark as a storm we will never forget. It has been a long haul for six days – for our members who endured long outages amid cold weather – for our team who has been working long hours in tough conditions to restore power. We appreciate our members who were patient, kind and supportive even as they were dealing with their own challenges. Through it all we have been inspired and humbled by the teamwork, care for community, practicality and work ethic on constant display. Our VEC team deployed all hands on deck in the field and the office to get people back on as quickly and safely as possible. We were joined by dozens of additional field workers – tree crews, traffic crews, lineworkers from utilities out of state and in-state, and contract crews. And we were supported by local restaurants who made many special arrangements to keep our team going with delicious, sustaining food. We are so proud to be part of this team and this community – Vermonters are absolutely amazing. We come together and get it done when times are tough. Thank you!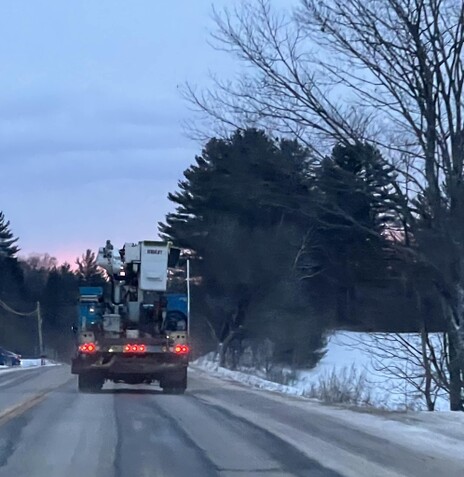 Tuesday 12/27/22 evening
The remaining 59 members without power require complex repairs and we expect to get most of them wrapped up tomorrow. We continue to be moved by the severity of this storm, inspired by the dedication of the VEC team, and are truly appreciative of the grace shown by our members who had their holiday disrupted. We are worn out and we are committed to staying safe while we continuing working to get every last member on. Thank you.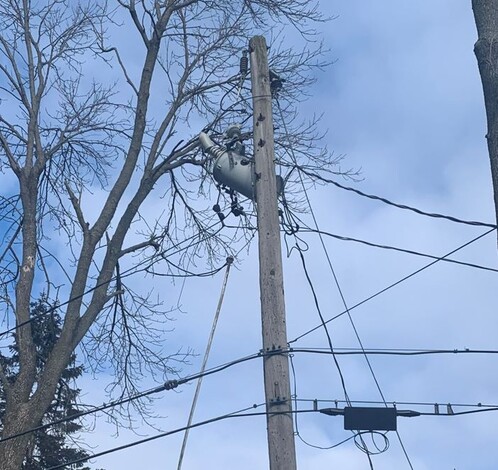 Tuesday 12/27/22 morning
Crews are rolling this morning to restore 346 members from 54 separate outage events. Broken pole count now totals 46. We have restored 32,783 members since the start of this significant event. 13 outside crews are on our system today so good progress expected.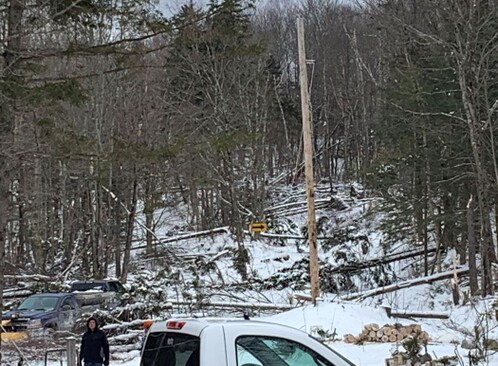 (Can you see the road sign?)
Monday 12/26/22 mid-day
Elk at Cow Palace in Derby watching crews replace broken pole.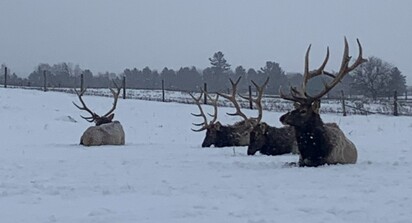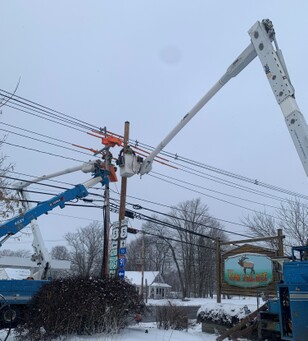 Monday 12/26/22 a.m.
Night crews continued to restore outages overnight, and we start the day with about 1600 members still out of power. Several crews of line workers from Massachusetts and New York State will be joining the restoration effort today as well. We will continue to update our Estimated Times of Restoration here: https://outages.vermontelectric.coop/ Thanks to the many, many members who have offered their support and good wishes to our crews as they continue to take on the demanding and dangerous work of restoring power. (Here is just another example of the types of damage we have seen over the last several days.)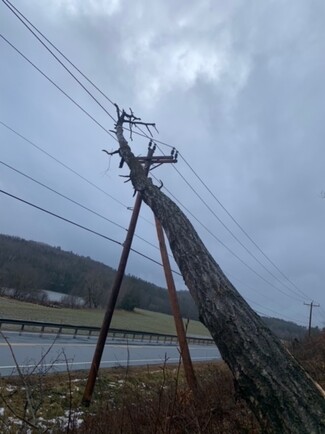 Sunday 12/25/22 evening
Crews made good progress today even in cold weather, removing downed trees and wires and restoring power to about 1,400 members. Still, 2,500 remain without electricity. This continues to be a multi-day event with widespread damage, including 36 broken poles in our territory. Because the storm affected the entire region, mutual aid has been scarce, but today we were successful in securing crews from out-of-state to assist with our restoration efforts. We will work hard to get everyone back on as soon as safely possible. Please call 2-1-1 if you need shelter or other assistance. Check on your neighbors. If you are using a generator be sure it's running in a well-ventilated location.
As soon as available, we post Estimated Times of Restoration on our outage page: https://outages.vermontelectric.coop/
Sunday 12/25/22 mid-day
A HUGE shout out to all the help during this storm from Erica's American Diner in Fairfax, The East Side Restaurant & Pub in Newport, Dairy Center Motel & Restaurant in Enosburg, Emmons Supermarket in Grand Isle, Phoenix House 1835 in Enosburg, Hero's Welcome General Store in North Hero, Thirsty Burger in Richford, and other businesses across our territory. Thank you for supporting our hard-working crews as they continue to brave the elements and repair the damage from Storm Elliott. We are grateful for this wonderful community – everyone pulling together. Thank you!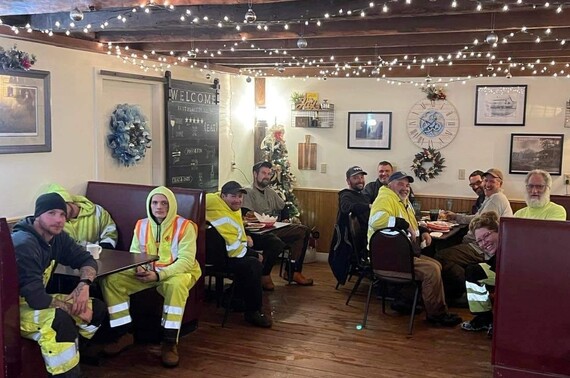 Crew getting warm and fed at Phoenix House
Sunday 12/25/22 morning
We have restored 26,957 members from 134 separate outages. There are currently 3,777 members without power due to 183 separate outage events. Crews have been working through the night and will continue working today and until we get everyone back on. A video message from VEC CEO Rebecca Towne on Christmas morning- response to Storm Elliot and appreciation to VEC members and VEC staff.

Here are some examples of the tremendous damage that our crews have contended with in order to restore power. We will not stop until we get all members back on.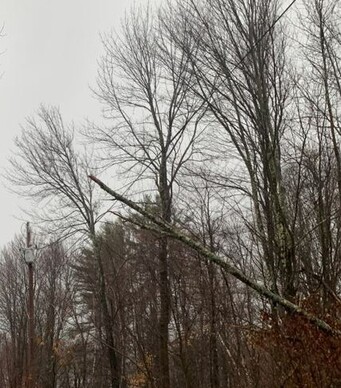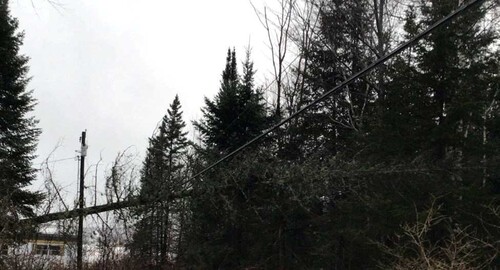 Saturday 12/24/22 Noon
We have 7316 members currently without power. The damage from the wind was extensive and crews have been repairing damage as soon as safely possible. We are providing estimated restoration times based on the best information available and will continue to update. Please stay away from downed lines and please do not approach field workers. Some new warming centers and overnight shelters have opened please link here for list. https://vermont211.org/ . There are overnight shelters open in Barre, Enosburg, and Wells. Stay safe please and thank you for your patience.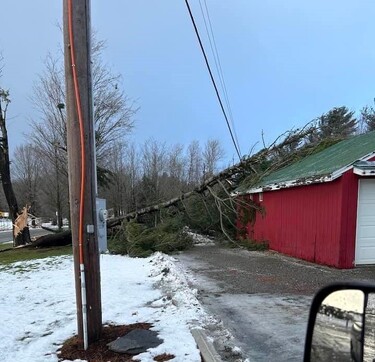 Saturday 12/24/22 morning
The damage from yesterday's storm was extensive. Currently we have 228 separate known outages affecting over 8,000 members in 58 towns. Crews have been responding and will continue to respond as soon as safely possible. Visit our webpage for current outage information. We have heard from some members that it is not working for them. This is due to telecommunications outages across the state, which make internet access spotty. You can also email support@vermontelectric.coop with your name, phone number and service address, or call 1-800-832-2667 for outage information. Times of restoration are our best estimates. We will continue to update them as we have new information. Please plan for multi-day outages based on the estimated restoration times.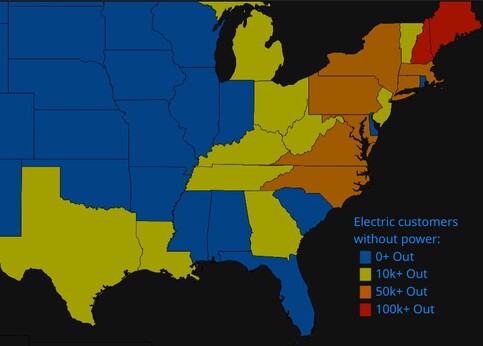 Friday 12/23/22 evening
As expected the entire state and the entire region was hit hard by this outage event. More than 17,000 VEC members (over 40% of VEC members) had outages today and many will be spending tonight, and maybe much of the holiday weekend, without power. We know this is really difficult and we urge you to take precautions to stay safe. PLEASE:- Stay clear of all downed lines. It is DANGEROUS to approach or to try to clear lines.- Practice safe generator use. https://www.healthvermont.gov/.../English_CO_Safety_Tips.pdf Please do not approach or talk to field workers. This slows down the restoration process and is unsafe. Please call the office 802-635-2667 with any inquiries.
Stay warm and safe. Seek shelter options or go to a warming center. The up to date list of warming shelters are available on the Vermont Emergency Management website: https://vem.vermont.gov/.../open-shelters-and-warming...
Please check on your vulnerable neighbors who may need an assist. We will be responding to safety priorities overnight to our best ability with the weather and travel challenges. We are committed to getting the power back on as soon as safely possible. Please continue to check the VEC outage page for our best restoration estimates and thank you very much for your patience.

Friday 12/23/22 a.m.
As expected the outages are starting up this morning. Since this is a region-wide event and mutual aid is limited please prepare for extended outages (in some cases it could be multi-day). You can check the VEC outage page for estimated restoration times but please understand that until a line is patrolled and we have a good understanding about the nature of the outage we will not be able to provide a restoration time estimate. We are sorry for the inconvenience and will do our very best to get the power back on as soon as safely possible.
If you are traveling on roads this morning, please be extremely cautious. Be vigilant for debris and down power lines. Treat all lines as if they are live and stay well clear. The high winds are currently making it unsafe for crews to progress with some restorations. We will provide estimated restoration times as soon as we have good information. Thank you for your patience and please prepare for multi-day outages. Have your storm kit ready and safety plan in place.
Outages continue to roll in. Currently there are 3,687 members without power. That number is expected to climb. Please stay safe, and stay away from down power lines.


Wednesday December 21, 2022