VEC Commits to Carbon-Free Power Supply by 2023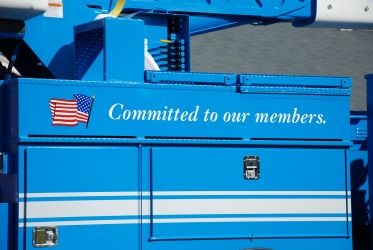 Johnson Vt – Vermont Electric Co-op (VEC) has committed to procuring a zero-carbon-emission power supply by 2023, the co-op announced April 7. (See video announcement from VEC's CEO Rebecca Towne, below.)
"I am proud that our Board of Directors, with strong support from our members, engaged deeply on this topic to boldly commit to 100 percent carbon-free in less than two years," said VEC Board President Rich Goggin. "We are moving quickly to reduce our impact on climate change, and doing it in a cost-effective manner. Vermont has consistently been a leader in the move toward clean energy, and VEC is stepping up even more."
Goggin also noted that in addition to moving to a carbon-free power supply, the VEC board also made a longer-term commitment to having a 100 percent renewable power supply by 2030.
Smuggler's Notch Resort, a VEC member, welcomed the announcement.
"Smugglers' is all about reliably cold and snowy winters, and climate change threatens that," said Mark Delaney, Chief Mountain Officer at the resort. "Our congratulations and thanks go to VEC for making this important commitment towards a sustainable climate friendly power supply for their members."
VEC CEO Rebecca Towne noted that Vermont has a goal to meet 90 percent of all of its energy needs with renewable sources by 2050. To achieve this, more cars, trucks and building heating systems will be moving onto the electric grid, she said.
"By going carbon-free, VEC is setting the foundation for a clean energy future," Towne said. "As our members choose to transition their homes and businesses to electricity, they will be part of a more climate-friendly energy system overall."
VEC offers several programs already that help members reduce their carbon footprint by helping them transition from fossil fuel equipment and appliances to electricity-powered devices.
Today, about 75 percent of VEC's power comes from non-carbon-emitting sources. The remaining 25 percent comes primarily from natural gas as well as other fossil fuel sources - sources which VEC will be moving away from. VEC is also expanding opportunities for "peak shaving" to reduce the need for carbon-emitting fuels especially during peak demand times.
"This is good news, and we applaud the Co-op for taking leadership in this issue," said Matt Maxwell, the owner of Maxwell Farm in Coventry, another commercial VEC member. "As a farm that generates clean electricity through the Cow Power program, we also believe strongly that we should move toward more modern and lower-impact energy systems."
"VEC deserves lots of credit for making this commitment," said Wendy Horne, the manager of the Keeler's Bay Variety store in South Hero. "Climate change is a critical issue for us, our kids and grandkids, and the health of our communities."