VEC Joins Electric Co-ops Across the Country to Recognize Lineworkers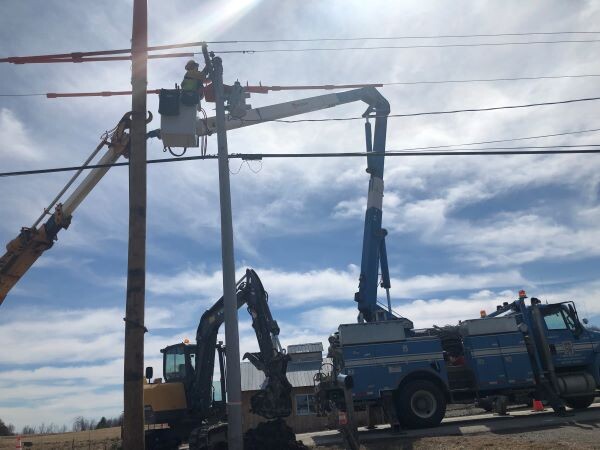 Johnson, Vt – Today marks Lineworker Appreciation Day, celebrated by the nation's electric cooperatives, and VEC is honoring all its employees who work hard to keep the lights on.
"Whether they're restoring power after a major storm or maintaining the infrastructure critical to our electric system, lineworkers are key to the co-op," said VEC Chief Executive Officer Rebecca Towne.
She also noted that when members see VEC's blue trucks in the field, they should be reminded there's also a team of employees behind the scenes, working around the clock to keep the power flowing.
This commitment VEC crews have to our members was underscored during a good sap run this spring when the Lane family of South Hero – in the midst of boiling - faced a big challenge when the power went out during a cold and windy night.
"The brightly lit and full-of-life sugarhouse went dark and quiet," Nick Lane wrote later to VEC. "Dad, with quick thinking, started working on a plan to ensure we wouldn't burn the pan as the wood fire continued burning beneath the evaporator. Mom came out from the farmhouse with extra flashlights and lanterns to illuminate the equipment."
The Lanes continued the best they could in the semi-dark. "But without the operation of the blower fans it was going to be a long night ahead of us," Lane wrote. "Contemplating a gamble to let the fire burn out and quit or to continue on with a good old-fashioned boil we persevered and put more wood on the fire."
Then, thankfully, the family spied VEC trucks on the road, their spotlights flashing along the power lines in search of the outage issue. Soon, the electricity was restored and the boil continued.
"What a blessing it was for the four of us that night in the sugarhouse to finish the work we had started," Lane wrote to the co-op. "We are very grateful for everyone from VEC who made that happen for us on a particularly cold and windy night. Many thanks and appreciation for those who were working hard without the fire in the evaporator keeping them warm."