VEC Seeking Candidates for Board of Directors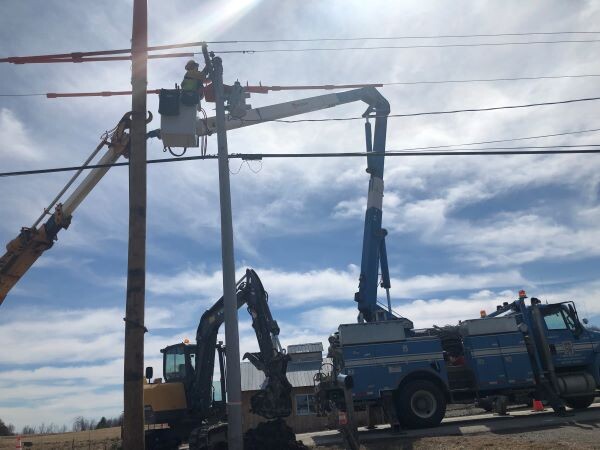 The Vermont Electric Co-op (VEC) is seeking petitions from eligible candidates for three seats on the board of directors that are up for election in May.
"Serving on the board is a great opportunity to be engaged in the dynamic, exciting electricity sector and at the same time serve your community," said Rebecca Towne, VEC's chief executive officer. "If you have ever thought about it - even if you are not sure you want to commit to running - please be in touch with VEC to learn more."
In order to run for the board, a candidate must be a VEC member and may not be employed by the cooperative. Candidates must have a principal resi­dence within VEC service territory that is also in the district they are running to represent. Directors are elected to serve four-year terms.
The board generally meets in the afternoon on the last Tuesday of each month, either at VEC's main of­fice in Johnson or virtually via teleconference if safety guidelines call for that. Directors receive a stipend and mileage reimbursement for attending meetings and have training opportunities to learn more about energy issues and the cooperative model.
Completed applications, including a petition (with an option for digital, non-contact collection) signed by VEC members, are due by 4:30 p.m. on Monday, March 15. To learn more or request applica­tion materials, please call Laura Kinney at 802-730-1172 or email her at lkinney@vermontelectric.coop.
Below is a list of the three seats that are up for election and the towns they represent.
District 2: Coventry, Derby, Newport City
East Zone: Albany, Averill, Avery's Gore, Barton, Bloomfield, Brighton, Brownington, Brunswick, Canaan, Charles­ton, Coventry, Craftsbury, Derby, Ferdinand, Glov­er, Greensboro, Guildhall, Holland, Irasburg, Jay, Lemington, Lewis, Lowell, Lyndon, Maidstone, Mor­gan, Newark, Newport City, Newport Town, Nor­ton, Sheffield, Sutton, Troy, Warner's Grant, Warren Gore, Westfield, Westmore and Wheelock.
West Zone: Alburgh, Bakersfield, Belvidere, Berkshire, Bolton, Cambridge, Eden, Enosburg, Essex, Fair­fax, Fairfield, Fletcher, Franklin, Georgia, Grand Isle, Highgate, Hinesburg, Huntington, Hyde Park, Isle LaMotte, Jericho, Johnson, Milton, Montgomery, Morristown, North Hero, Richford, Richmond, Shel­don, Shelburne, South Hero, Starksboro, Stowe, St. Albans Town, St. George, Swanton, Underhill, Wa­terville, Westford and Williston.