Vermont Electric Cooperative (VEC) is All-In on Driving Electric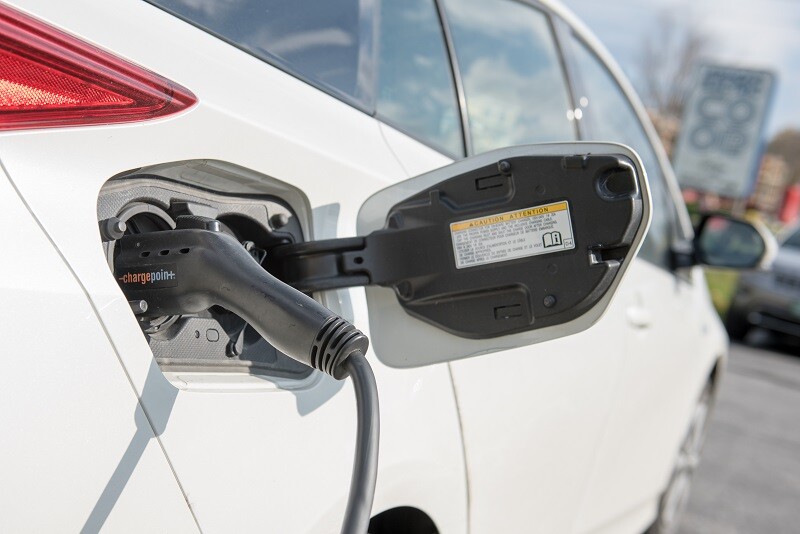 VEC Celebrates National Drive Electric Week -Committed to Increasing VEC Electric Fleet and Supporting VEC Member's Energy Transformation

Did you know that over 30% of VEC members expect to be driving electric in the next 5 years? VEC's annual member survey, conducted this summer, shows increases in both the number of people currently driving electric vehicles and the percentage of VEC members planning to drive them soon. This is great news because using electricity to power our transportation will have meaningful environmental and carbon reduction benefits. Driving electric has also never been easier with more vehicle types coming on the market and an increase in available home and public charging options.
National Drive Electric week (Sept 25-Oct 3) is the perfect time for Vermonters interested in driving electric to learn about vehicle options, costs of ownership and maintenance, and resources that are available to help them make the best decision for their individual transportation needs. There has been considerable progress in the past few years in the types of vehicles available and the battery range which might make driving electric more feasible for people that need to travel longer distances or who need to travel on rugged terrain.
If you are ready now, or might be interested in learning more about the vehicle options and costs, you can visit Drive Electric Vermont's website https://www.driveelectricvt.com/ to find vehicle comparison tools, incentive information, and other resources. VEC members can also learn about electric vehicle and vehicle charging incentives at VEC's website https://vermontelectric.coop/energy-transformation-programs. VEC has recently launched a special load management incentive for members who agree to charge their vehicle when the electric system is in less demand.
In this linked video, VEC's Chief Executive Officer Rebecca Towne discusses her own experience driving electric over the past two years and VEC's efforts to continue moving toward a more electric-powered fleet. VEC's own Ford Fusion hybrid electric vehicle, VEC's first electric-powered vehicle, has proven to be a valuable and capable addition to our fleet. The car allows VEC to use less fossil fuel as employees travel to the co-op's district locations and work sites across VEC territory. VEC crews are also looking forward to the addition of electric-powered pickup trucks to the VEC fleet over the next year or so. Rebecca Towne is Vermont Electric Co-op's Chief Executive Officer.
About Vermont Electric Cooperative
Vermont Electric Cooperative (VEC), established in 1938, is a non-profit, member-owned electric distribution utility that provides safe, affordable, and reliable electric service to approximately 32,000 members in 75 communities in northern Vermont. Committed to a 100 percent carbon-free power supply by 2023, VEC is nationally recognized for innovative and advanced use of technology. VEC largest locally-owned electric distribution utility in Vermont. www.vermontelectric.coop