Energy Innovation, Broadband and Board Elections Topped Vermont Electric Co-op Annual Meeting Saturday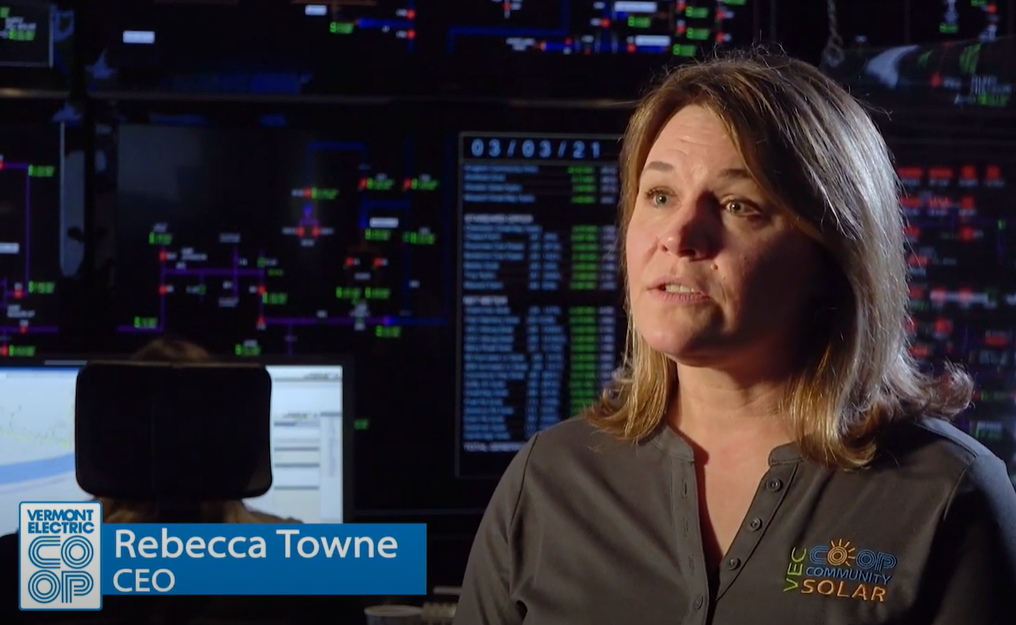 Johnson, Vt – Grid innovations, reliability, a new commitment to cleaner power, and accelerated broadband deployment were all front-and-center topics at Vermont Electric Co-op's virtual Annual Meeting held this past Saturday, May 8.
The meeting, entitled "An Adaptable Resilient Grid: Teaming up for a Bright Future," was presided over by VEC Board President Rich Goggin of South Hero and featured a presentation from VEC Chief Executive Officer Rebecca Towne, a guest appearance from Lt. Gov. Molly Gray, participant questions, and more.
During the meeting VEC announced the winners of this year's Board of Directors elections. There were three seats up for election: district 2, East Zone At-Large, and West Zone At-Large. The winner in District 2 was John Ward; the winner in West Zone At-Large was Bonnie Pratt; and the winner in East Zone At- Large was Tom Bailey. You can find details about the results including vote tallies here (https://vermontelectric.coop/annual-meeting)
Broad and consistent themes in Towne's remarks included VEC's innovations and continued efforts to lay the groundwork for a resilient and modern energy system in VEC's rural territory.
"We are very focused on serving your energy needs in an affordable reliable way and making sure we are a part of thriving rural communities," Towne told members who logged on to the meeting.
Towne noted that the co-op has saved about $50,000 by using a new utility-scale battery in Hinesburg to store energy when costs are low and then using that power when costs are high. She noted that the co-op will be launching other battery storage programs soon that will help keep costs down for the co-op, increase resilience, and over time allow more renewable energy to be integrated into the system.
Towne also highlighted VEC's new initiative to support broadband deployment, noting that since the beginning of 2020 crews have made 150 miles of co-op infrastructure ready for broadband deployment and that the co-op has committed $3 million over three years to assist in the cost of further make-ready work for broadband providers.
She also highlighted the co-op's recent commitment to procuring cleaner power in the coming years, saying it's a way VEC can do its part to address climate change.
"As an energy provider we have an important role to play in mitigating the human impact of climate change," she said.
Towne also noted that 2,000 members have taken advantage of VEC's Energy Transformation program which offers incentives to members who buy certain electric-powered equipment, like electric vehicles, heat pumps, and yard equipment for example. As more members take advantage of this program, she said, VEC's power supply will provide an increasingly cleaner source of energy for these devices.
Other items Towne highlighted included:
Reliability continues to improve. The co-op is increasing tree trimming and continues to move poles to the roadside where practical.
VEC saw 390 new service applications in 2020, a record for recent years.
VEC has made it easier than ever for members to give to the Community Fund by rounding up their bills, donating patronage capital, or making a one-time donation.
VEC Board member and treasurer John Ward, in the Treasurer's Report, noted that VEC continues to have strong financial results. He said VEC's finances are currently rated A-Plus with a stable outlook by Standard and Poor's, the highest-ever rating for VEC.
Lt. Gov Gray, in her remarks at the meeting, offered a statewide perspective on several issues, including legislative matters and COVID relief funding. Saying broadband is going to be "the electricity of our time," she stressed that getting broadband deployed as fast as possible to areas in need is critical. She also noted that keeping young people in Vermont through investments in areas like child care and workforce development is a priority for her. She also said that while it's commendable that Vermont has had strong vaccine deployment so far, it needs to continue. "My plea to Vermonters is to come together so we can get that community immunity so that we can get our fairs, and parades and barbecues going again," she said.