Annual Meeting & 2021 Election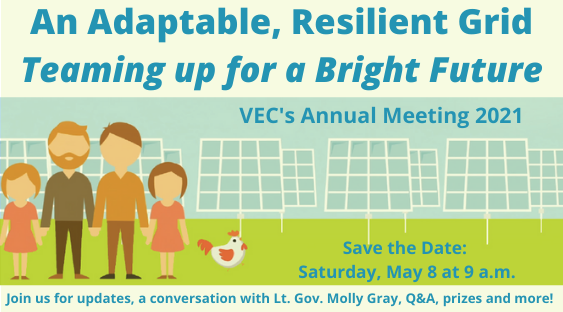 Because of COVID-19, we will not be holding an in-person Annual Meeting. Instead, please join us on your computer or mobile device: https://bit.ly/3vXv4ED (Passcode: 415688)
Or call toll free: 877-853-5247 or 888-788-0099 (Webinar ID: 898 5412 6362, Passcode: 415688)

Questions? Please email us at annualmtg@vermontelectric.coop.
DIRECTOR ELECTION

Because VEC is a cooperative, members elect local representatives to serve on VEC's twelve-member board. These directors participate in setting policies and making decisions and are expected to represent the interests of the VEC membership.
The following seats are up for election: District 2, East Zone At-Large, and West Zone At-Large. Below is the slate of director candidates. Director candidate photos and statements are provided on a separate sheet for each open seat. One seat is available per district.
The election opens at noon on April 13 and closes at noon on May 5. Materials were mailed to members on April 13 and should arrive within a week. Members who need help voting can email annualmtg@vermontelectric.coop or call 1-800-832-2667.
Members can vote through SmartHub on their computer or mobile device (you will need to have the latest version of the app), on the election website, or by returning the paper ballot in the envelope provided. Members who do not already have a SmartHub account can create one and vote there.
**Members who vote in the 2021 Election will be entered into a raffle to win a variety of prizes!**

2021 Director Candidates
District 2
Hazen Converse – Derby
Penny Thomas – Newport
John O. Ward Jr. – Newport
District 2 towns: Coventry, Derby, Newport City
Click here to read the candidate statements.

East Zone At-Large
David Atkinson – Maidstone
Tom Bailey – Derby
Kristen Fountain – Albany
William Gilbert – Lemington
East Zone Towns: Albany, Averill, Averys Gore, Barton, Bloomfield, Brighton, Brownington, Brunswick, Canaan, Charleston, Conventry, Craftsbury, Derby, Ferdinand, Glover, Greensboro, Guildhall, Holland, Irasburg, Jay, Lemington, Lewis, Lowell, Lyndon, Maidstone, Morgan, Newark, Newport City, Newport Town, Norton, Sheffield, Sutton, Troy, Warners Grant, Warren Gore, Westfield, Westmore, Wheelock
Click here to read the candidate statements.


West Zone At-Large
John DeWitt – Essex
Bonnie Pratt – Cambridge
Peter Southwick – Grand Isle
Rich Westman – Cambridge

West Zone towns: Alburgh, Bakersfield, Belvidere, Berkshire, Bolton, Cambridge, Eden, Enosburg, Essex, Fairfax, Fairfield, Fletcher, Franklin, Georgia, Grand Isle, Highgate, Hinesburg, Huntington, Hyde Park, Isle LaMotte, Jericho, Johnson, Milton, Montgomery, Morristown, North Hero, Richford, Richmond, Sheldon, Shelburne, South Hero, Starksboro, Stowe, St. Albans Town, St. George, Swanton, Underhill, Waterville, Westford, Williston
Click here to read the candidate statements.
VEC's 2020 Annual Meeting was held remotely on Tuesday, May 26 at 12 p.m.

Please link here to review the Chief Executive Officer presentation and link here for the Treasurer's report.
See a video recording of the meeting below:

2020 Annual Meeting Unapproved Minutes