VEC Community Fund grants support suicide prevention, PPE, more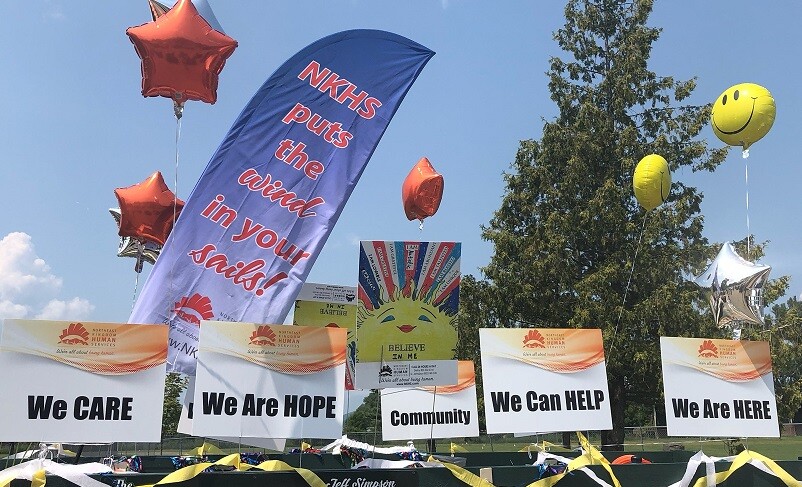 Initiatives to reduce suicide, and increase COVID safety, child care, and food security all received support recently from the Vermont Electric Co-op's Community Fund.
The VEC Community Fund is a voluntary program supported by VEC members who choose round up their electric bills, donate their patronage capital dollars, or make one-time donations to the fund. The fund then makes grants to local organizations that support economic security, energy education, emergency and disaster relief, and community development.
Ruth Marquette, funding program specialist with Northeast Kingdom Human Services Zero Suicide Initiative, noted the recent VEC grant will help the group provide suicide prevention and awareness training in Orleans and Essex counties. "Training participants will learn how to reduce stigma, feel comfortable talking about the subject of suicide, and know whom to contact in a crisis," Marquette noted. "It is important to know how to ask-a-question-save-a-life," she said.
Another VEC grant – this one to the Lowell Graded School - will help the school buy Personal Protective Equipment (PPE) to maximize protection against COVID-19 transmission for staff and students when school reopens.
"In light of financial questions surrounding school funding during these uncertain times, the board and administration breathed a sigh of relief that like a good neighbor, VEC had our back on this," said Steven Mason, chair of the board of the North Country Supervisory Union. "Such strong support from a community partner is the kind of support that makes our small, rural communities a special place."
Besides the grants supporting suicide prevention and PPE, VEC awarded grants to:
The Alburgh Family Clubhouse for the construction of a child care facility at the Alburgh Community Educational Center (the Alburgh public school). The facility would provide day care for children up to 6 years of age, and house the pre-K educational room for 3-to-5-year-old children. It would also host an afterschool program for children from 6 to 12.
The Common Roots Farm in South Burlington to support the distribution of local, organic, fresh food to families experiencing food insecurity in the Chittenden County area, including towns served by VEC.
Applications for the Community Fund are on a rolling basis, and grants are issued quarterly. If you know an organization that could benefit from the support of the Community Fund, or you want to support the fund, you can learn more here: https://vermontelectric.coop/community-fund or call VEC Member Services at 802-635-2331 or 800-832-2667.