Getting or Changing Service
When to apply: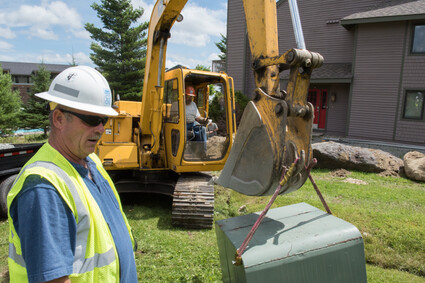 If you are planning to construct a new facility that requires electricity, please review VEC's Electric Service Requirements Manual. VEC recommends that requests for new service or changes to existing service be made as far in advance as possible.
Because new service may require easements and/or special construction permits and in some cases, public hearings or regulatory review, we urge new members to contact VEC well in advance of commencing construction to ensure that electric service will be available when it is needed.
VEC can provide temporary service to supply power for construction sites or for other short term uses. Prospective members seeking temporary service should consult with the VEC Engineering Department regarding availability and cost. In general, the cost of a line extension and the cost to install and remove the temporary service must be paid before a temporary service is installed.
Existing services may require changes as a result of additional load installed by a member. Because VEC's facilities are normally designed to meet the member's electricity demand requirement at the time of initial service, the additional load should not be connected until VEC has been notified.

In situations where a significant amount of new load will be added by a member, VEC may have to install larger service equipment or undertake additional construction (often at the member's expense) to accommodate the demand increase. As in the case of a new service, members should notify VEC as far in advance as possible to ensure that the required service upgrade will be available when it is needed.
How to apply:
Existing or prospective members requesting electric service or service upgrades are required to complete the appropriate following forms.
You can link here to utilize an on-line form for new service or change of service or download the forms here:
Link to Construction Standards
All applications for electric service should include a service layout designating the proposed location of buildings, additions, and property lines and indicating the preferred location of the service entrance equipment. However, the final design and site plan for electrical service will be at the discretion of Vermont Electric Co-op.
Easements
If any VEC owned infrastructure (poles, wires, vaults) will be located on your property (or neighbor's property) as a result of this service then an easement giving VEC the right to access the property to maintain the equipment is required. VEC needs the following:
A completed easement information checklist
Deed to your property (all pages including Book and Page #) and list of all property owners adjoining your property
If crossing neighbor's property---Deed to your neighbor's property (all pages including Book and Page #) and List of all property owners adjoining your neighbor's property.