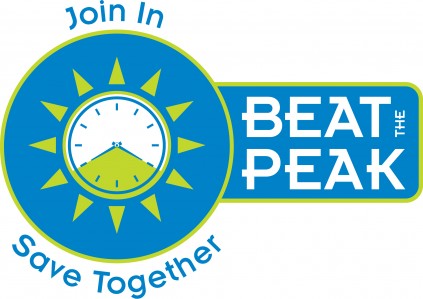 Vermont Electric Cooperative's voluntary Beat the Peak program encourages members to reduce energy usage during "peak" energy times. A peak event is when energy demand is at its highest. If VEC members can collectively "beat the peak," members can help control rising costs that impact electric rates.
Like other electric distribution utilities, VEC must pay for the costs associated with purchasing and delivering energy to consumers. Transmission and capacity costs make up a large portion of VEC's annual operating budget and are expected to rise significantly in the next few years. Not only does VEC pay to maintain its own transmission lines, but VEC also pays to use the additional transmission lines that make up the Vermont and New England electric grids.
Transmission and capacity costs are based on times when energy consumption is at its highest, or peak usage times. Transmission costs are based on an annual peak, and capacity costs are based on monthly peaks. If VEC members can collectively "beat the peak" by conserving electricity during these times, they can help VEC save money on our portion of these costs, which are shared by distribution utilities throughout New England.
Energy peaks typically occur between 2 pm and 6 pm on the hottest days of the summer and between 5 pm and 9 pm on the coldest days of the winter. When VEC predicts a potential peak, we will ask members to turn off unnecessary lights and appliances and delay the use of major appliances, such as dishwashers, washing machines, and clothes dryers. Overall, members are asked to use electricity carefully during these times.
Members interested in helping to "beat the peak" may sign up to receive alerts during peak events. You can choose e-mail, text, or phone message alerts, and you can expect to hear from us a few times a year. To enroll, simply click here or call 1-800-832-2667.