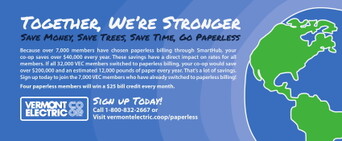 VEC's paperless billing through SmartHub saves trees, money, and time. For every member who signs up for paperless billing service, the Co-op saves about $7 a year. With just over 10,000 members participating, that adds up over $70,000 in annual savings. If every VEC member signed up, we could save more than $200,000 and 12,000 pounds of paper a year. That's a lot of savings!
The other thing paperless billing saves is time - your time. When you receive a bill by email, you can log on to your account, using either your computer or mobile device, and pay it immediately or schedule to pay later. You can save bank account information so that you don't have to enter it every time. Simply select your payment method, enter the amount you'd like to pay, and click the "Make Payment" button to confirm. No stamps, checks, or envelopes required.
You can sign up for paperless billing today through SmartHub. In SmartHub, go to "My Profile -> My Information -> Update My Printed Bill Settings" and set your "Printed Bill Status" to "off."
Don't have a Smarthub account? You can sign up here.

You can also email support@vermontelectric.coop or call 1-800-832-2667 for help signing up.