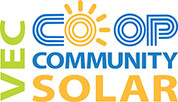 VEC's Co-op Community Solar program offers members the opportunity to sponsor panels on VEC solar arrays for either 10 or 20 years and receive a fixed, guaranteed monthly credit on their electric bill. See below for more information.



Broadly speaking, community solar is a solar facility that produces more power than a single home or even a few homes can use. Participants in a community solar program can sign up to receive a bill credit for the power that the solar array produces. VEC's Co-op Community Solar follows this model. Members can participate by making an upfront payment to sponsor panels in the array, which helps pay for the cost of putting more solar power onto the electric grid. Participants then receive a fixed, guaranteed monthly bill credit for either 10 or 20 years, depending upon which sponsorship term they choose. That bill credit does not change over time and is guaranteed for as long as the participant sponsors the panels. Members can participate at a modest level by sponsoring just one panel, or can sponsor enough panels to cover their annual electric charges.
You can find cost information here. A participant can sponsor anywhere from one panel to enough panels to cover their annual charges.
Yes. While members can finance their upfront payment privately, there is also a financing option available with NeighborWorks of Western Vermont that is a 10-year term at a 4.7 percent interest rate. VEC is offering an "on-bill payment" option for the NeighborWorks loan so that members can pay their loans as part of their monthly VEC bill. For information about this financing option go to the Neighborworks of Western Vermont website.
Members sponsoring panels will not be eligible for federal solar energy tax credits; VEC has built that credit into the price of the sponsorship. Members are not required to pay taxes on the monthly bill credit, as that is not considered income.
Participants can opt out of the program at any time. Those who opt out will receive a portion of their initial investment back, depending on how long they've participated. Participants can also transfer their sponsorship to another VEC member's account as long as that member has enough usage to take advantage of the monthly credit amount. Here are the opt-out and buy-back details.
VEC's three community solar projects are located in Alburgh, Grand Isle, and Hinesburg. Together they total about seven megawatts and produce over nine million kilowatt-hours annually, the equivalent of about 1,400 homes' annual usage.
No. VEC is not selling the RECs for the portion of the project sponsored by VEC members. These RECs will be retired and will help VEC meet state renewable energy requirements.